Carolina Arandia: Through dance and elements and tools of dance composition, we explored different ways of creating bonds, of knotting as a way of being connected to each other.

Carolina Arandia is an Argentinian dancer, teacher and choreographer based in Prague. She graduated in Object Theatre, Interactivity and New Media at the National University of Art of Argentina (2019). Carolina began researching and developing her performances in 2015. In her various works ('LOMO', 'Ósea', 'What lies beside the haters', '#followforfollow', 'IT') through dance and choreography she explores diverse ways of being in relation to the context of today's society. Her interest lies in time and the ways in which it is inhabited. On November 15, 2022, she will present her latest dance work, a hypnotic and meditative experience, Aurora.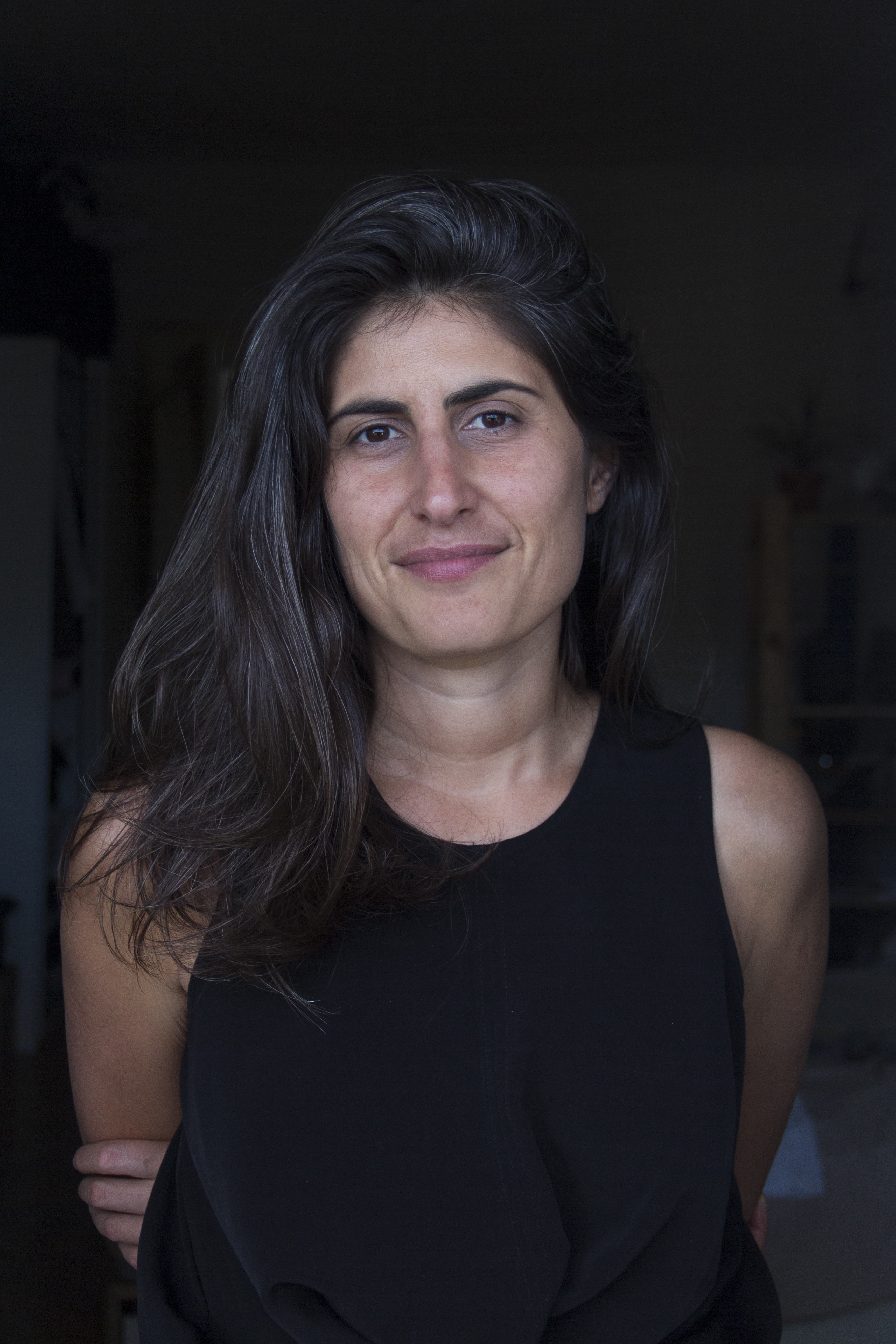 In your creative work, you are engaged in many types of activities. You live in Prague, but you originally come from Buenos Aires. Could you introduce what you are currently working on and what performances you can be seen in?

During the past two years, I have been focusing mainly on this project which we are about to premiere, Aurora. It is a very special project to me because I was developing its idea by having weekly consultations within a study group that is led by an Argentinian philosophy professor and dancer, Claudia Groesman, and integrated by Latin American choreographers. After five years of living in Prague, of collaborating with local and international artists, it was important and necessary for me to go back to study and rethink ideas with Latin American artists: as a way to reconnect with my personal perspective as an artist and as a way of integrating and updating my vision of the present world. The experience of living as a foreigner on a different continent with such a different cultural background, comes to me with many existential questions and with a huge opening of space perception. Connections and stories start to happen worldwide. Actually, they have been happening like this throughout history already with previous generations and ancestors. I am a descendant of European war immigrants (as well as many other Argentinians) that arrived in Buenos Aires and got mixed with locals. When migrating, this fact becomes concrete in the experience. Recognizing these facts and sharpening my vision about migration brought me to work with a specific idea of time and space, with abstraction, simplicity and poetics. The process of working collaboratively on these ideas with the artistic team here in the Czech Republic, opened up the universe of Aurora.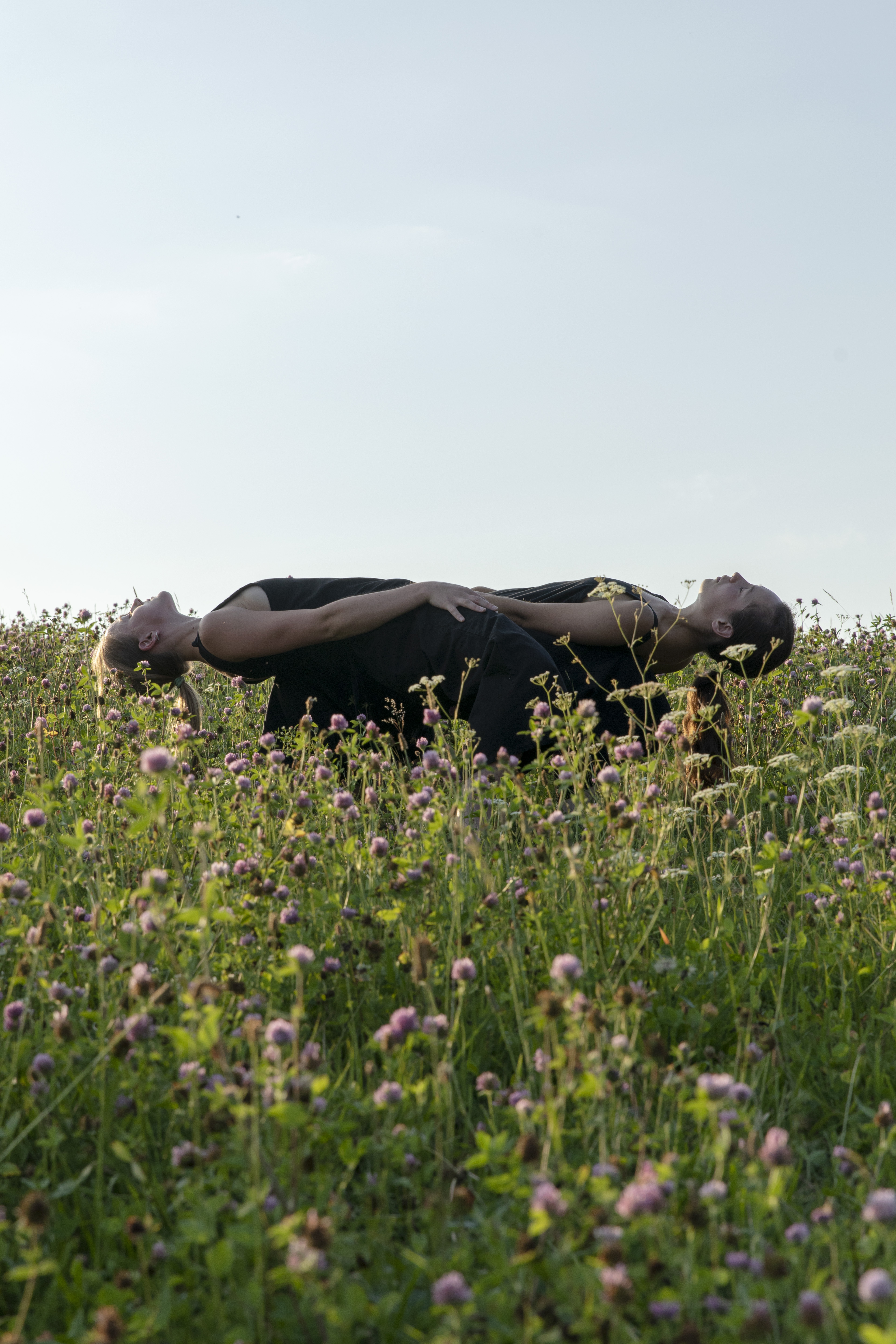 I am interested in your strategy of combining current topics and dance art. Would you say that your performances could be described as activistic?

Actually no, I wouldn't describe my performances as activistic. The topic of migration worked as a starting point for the research. It opened up questions about belonging and took me to understand it as a construct made by humans, as a cultural construct reinforced by symbols and traditions, made to feel safe, held and certain about something. And this idea, this process of creating connections to anchor is what we explored and what the piece is about.
Through dance and elements and tools of dance composition, we explored different ways of creating bonds, of knotting as a way of being connected to each other. These intimate connections happen to be supportive, challenging, triggering and magical - and they somehow happen on a different layer of time. Timing is a very important element of the piece since its treatment refers to long constant periods of time when things are being formed but are not still shaped or are not yet visible (like the timing of a seed under the soil or the sun during the night) in contrast to the instants when they create a shape and become visible. In my perception, these revelations are sublime and they refer to a strong vital force.
Putting the focus on these subtleties but huge events, within the present context of war, post-pandemic, climate, economic (and many more) crises, in my opinion, is a way of touching a sensitive human fiber while sending a message of hope.
In the autumn of 2019, you completed your first residency in Terén in Brno. How does it feel to return to work with the Terén team?

It feels great! Terén team has always been supportive and efficient, pleasant and inspiring to work with. I'm very thankful for this collaboration and the trust given by them. This project is my first one as a choreographer and director in the Czech Republic, it is a step I have been trying to take for a while and it happened thanks to their support.
The facilities at the theatre are excellent, it is comfortable to work in, as well as in the city. It feels good to be here.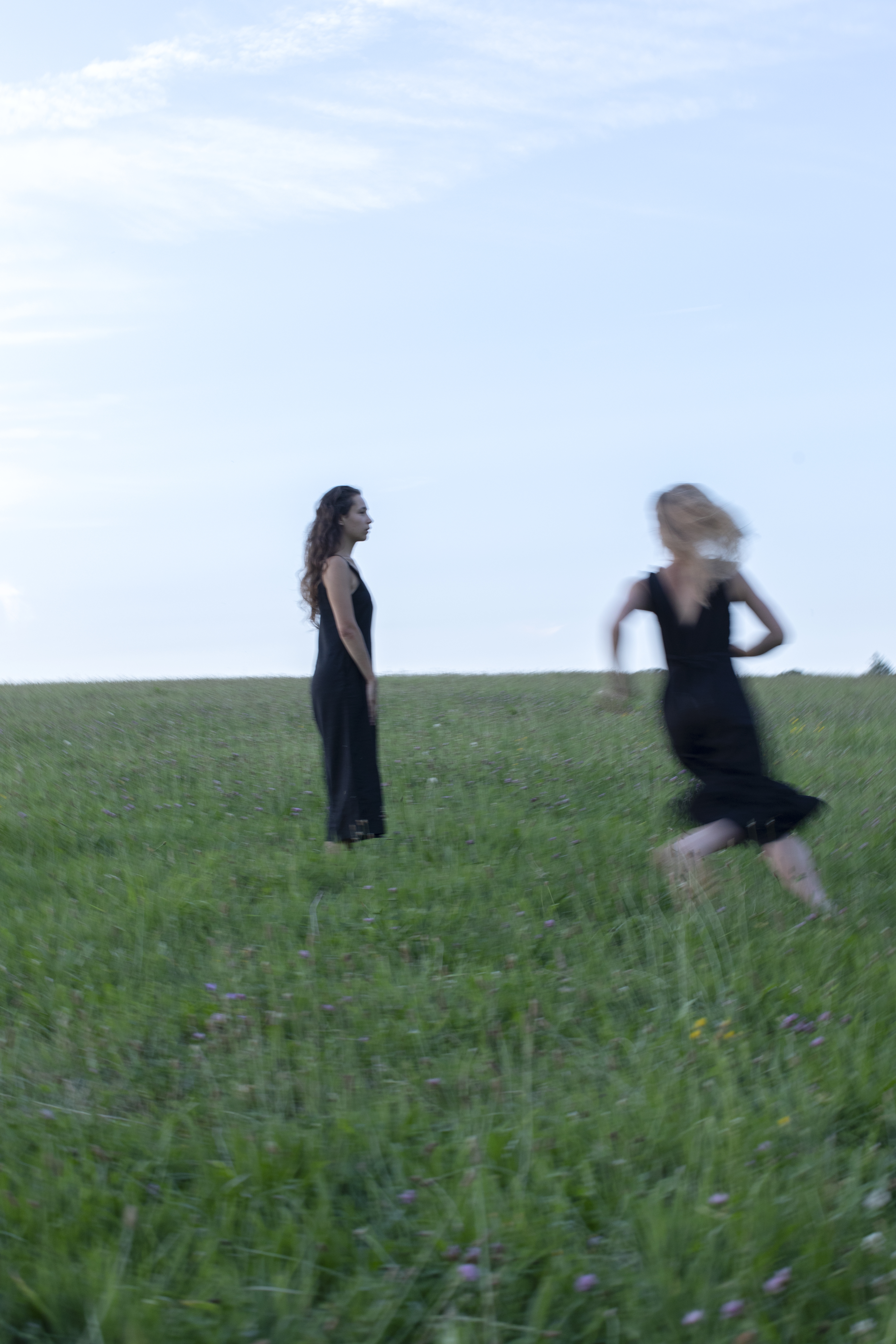 Do you feel any connection between your 2019 performance that you created in collaboration with Wayne Jordan, The Acts, and Aurora, which you will perform on November 15, 2022?

Absolutely yes! Even though the format is different (The Acts was a participatory performance), the aspect of making the artistic event a ritualistic and sensorial experience for the audience is a connection between both performances. I would say that this aspect is similar and dominant in both pieces, because of the use of timing and immersion. Also conceptually, they both refer to a sublime presence, to something bigger than us and the connections and events that happen in relation to wholeness.
Lastly, I observe the premise of working with softness, tenderness and gentleness as the main pillars of interaction between the performers. Suggesting and reinforcing this way of bonding with others.
You are here in the role of choreographer and director. What interests you most about working with dancers Johanna Šilarová and Katarina Kadijević?

The collaboration with Johanna and Katarina was a very close one. What interested me the most was their enthusiasm and will to work, on top of being open, flexible and exceptionally creative artists. They both have different backgrounds and this fact nourished the research to a great extent. Johanna has strong technical dancing skills and physical intelligence that contributed especially to finding the kinetic material of the piece. Katarina's sensitivity and experimental way of thinking contributed to opening new branches of the topic and approaching it transversely. They didn't know each other before and along the process they opened up to each other´s energy to meet in the dance and they have developed a really nice friendship. This is visible in the performance.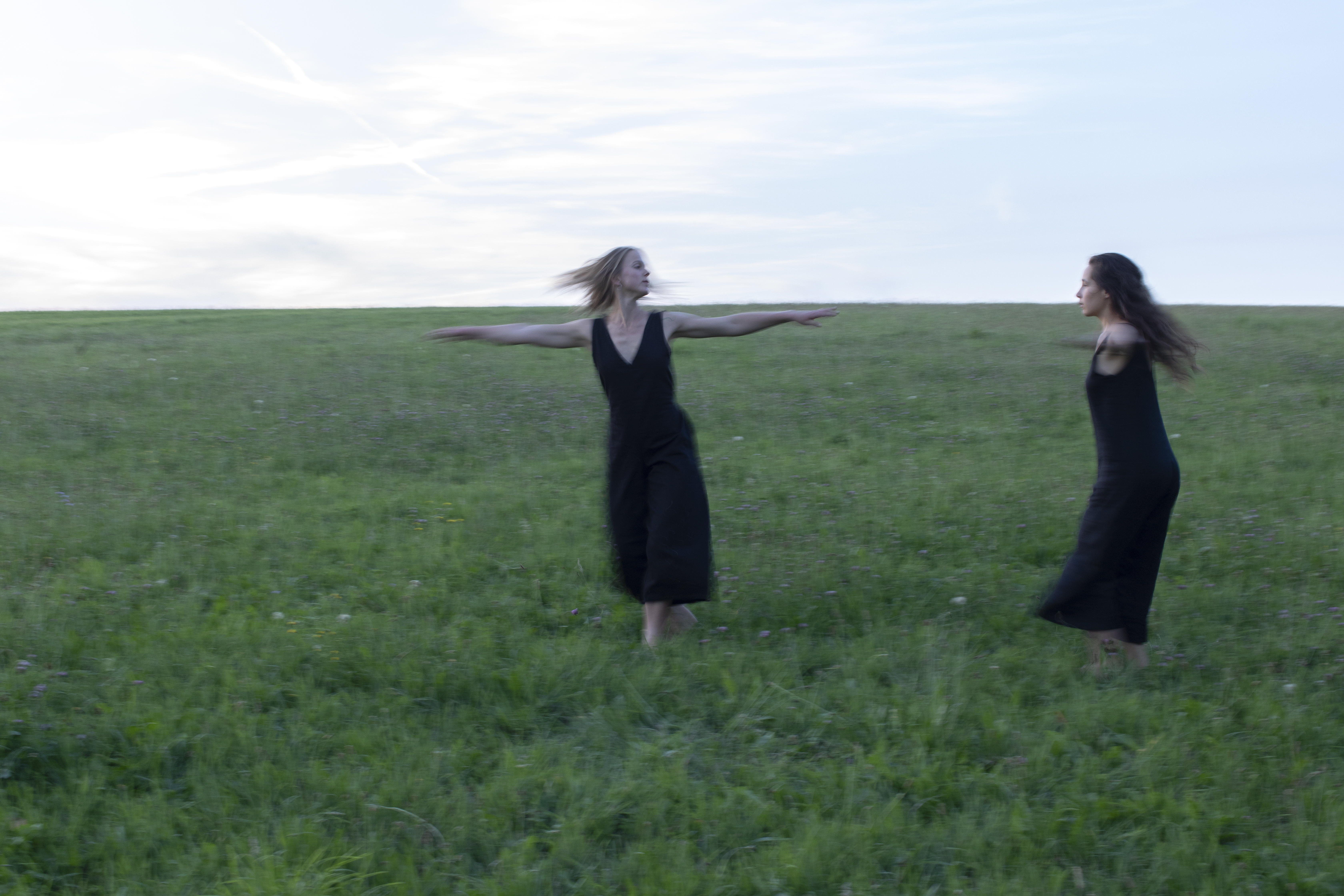 You have already performed Aurora as a Work in Progress on October 27 at Studio ALTA. Could you give us an insight into its concept?

The Work in Progress presentation at Studio ALTA was an important step for us since it was the first time we presented the piece to the audience. As I mentioned before, the piece is intimate and sensitive: opening up about these aspects makes us feel vulnerable, so we were nervous about it.
The audience connected with the piece wonderfully, we received not only great feedback but also their thankfulness after feeling moved, emotional and inspired after watching the piece. No explanations were needed and this is a success for me. We all gained confidence to head towards the upcoming premiere.

More from Carolina:
@caroarandia on Instagram

The interview was conducted by Kristýna Businská/ Rozhovor vedla Kristýna Businská.